Reach Refresher Forklift Training Course

Guidance with reference to refresher training recommends that basic skills are refreshed every 3-5 or less dependent upon risk.
Course title:
Lift Truck Basic Safety Refresher and Test Course
Course objectives:
To teach refresher training and update the basic skill requirements and associated job safety knowledge to existing certificated operators of industrial lift trucks
Who should attend this course:
Delegates who hold or have evidence of basic skills certification on the machine type in question
Course duration:
This course is typically between 5 and 7.5 hours (1 day) dependent on the number of trainees attending the course. ITSSAR accredited courses for lift trucks are strictly a maximum of 3 delegates to one instructor on one machine to ensure the training meets the Approved Code of Practice L117
Machine types novice training is delivered on include:
Counter balance, reach, side loaders, multi directional (e.g. combi lifts), telescopic handlers, narrow aisle, articulated pivot steer (e.g. bendi), rough terrain, transportable (e.g. moffet mounty).
Safety Refresher and Test courses are also available on pedestrian operated lift trucks that have shorter durations and we will be only too pleased to help with course timings on these types of machines.
Certification:
Successful delegates will receive a Safety Refresher and Test certificate of basic skill and ability endorsed by ITSSAR with their registration number to the Trained Operator Passport Scheme (TOPS)
Training Material:
Delegates will receive relevant course handouts to support theoretical knowledge gained
Location:
At customers premises or at our centre (reach and counterbalance only in centre)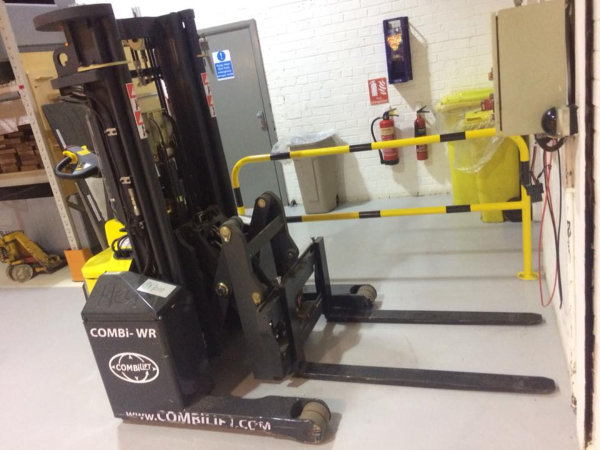 We recently attended the Forklift Truck Operators course at C.R.S. Training.

All of the staff were extremely helpful when it came to arranging the course dates and providing us with the information we needed.

We were made welcome when we arrived and Ian our instructor created a great learning environment.

The facility is extremely well kept and perfect to learn in.

We look forward to returning to do our refresher course.

Ben
Maxilla Packaging
Refresh and Update of Theoretical Knowledge
The need to train & statutory requirements
Counterbalance Principles
Rated Capacities
Stability and instability
Operator Safety Code
Suitable safety films
Multi choice theory test
Practical Skill Instruction
Introduction to the machine (in training centre only)
Control familiarisation (in training centre only)
Refresher daily checks/refuelling procedures
Refresher advanced driving and steering procedures
Refresher Load handling
Refresher stacking / de-stacking procedures
Pre-use check test
Practical skill test
Reach Forklift Training Courses